Here is a short guide how to create web proposals. It will increase your customer satisfaction, conversion from RFP-to-Booking, and saves time from your organisation.
The old traditional way to handle RFP's and proposals is by phone and email with attachments which is very time consuming and frustrating to all stakeholders involved. Therefore, we have developed "web Proposals" feature so that you can create offline bookings instantly while having your customer on the phone. You can create a web proposal for both Meeting Room booking or Packages using the Calendar option. See below: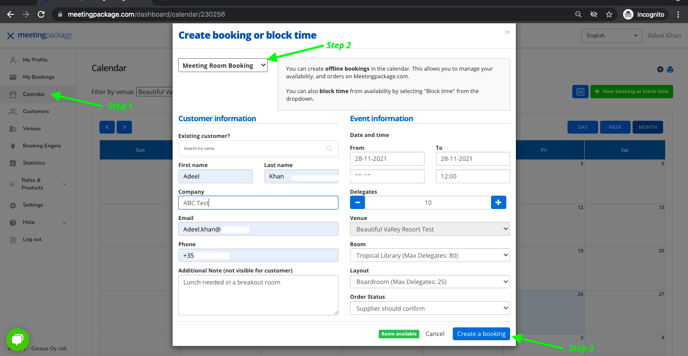 Once you click on "Create a Booking", it will create a link (URL) with the booking details to be forwarded to the customer. All you need to do is to change the status of the booking to "Customer should confirm" and click on "Send email". Once sent, the customer will receive the proposal in their inbox. See below: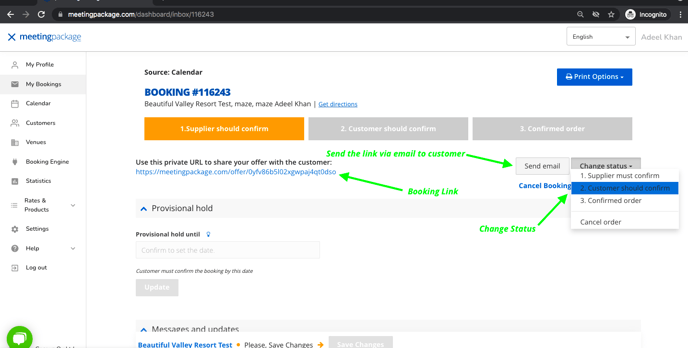 More often than not, there will be amendments to the quote/proposal so everything is handled online which means that you do not need to create yet another PDF quote and send it via email. All the amendments will be managed through order management (screen shot above) and when either stakeholder changes the quote the other contact will be notified that the proposal has been amended. The efficiency comes from the easiness to manage the proposals between both parties.
So thats how you create Web Proposal in few simple steps.